Dock and Common Areas
Common Area - $55.00 Annually
The Common area is located at 19482 Gulfstream Way. Some of the amenities include the BTPOA's private boat ramp, the Tiki Hut, fresh water, asphalt paving and parking and a private white sand beach. Vehicular access to the Common Area and its amenities are billed annually. To obtain a Key/FOB please contact Tom D'Alessandro or Tony Askew. **There is a one time fee to obtain the FOB/Clicker.
Dry Slip - $137.50 per Slip Annually
The Dry Slip area consist of storage spaces where functional and properly titled trailers may be stored. The Dry Slip fee is billed annually. For information on the Dry Slips please contact the Dockmaster.
Wet Slip - $720 per year.
The Wet Slip area consist of 18 dock spaces. The Wet Slip is based on first come-first serve basis. These fees become delinquent April 15th and October 15th. For information on the Wet Slips please contact the Dockmaster.
For temporary use of a Wet Slip please coordinate with the Current Lessee. You must notify the current Lessee for permission. You must also provide contact information in case of an emergency.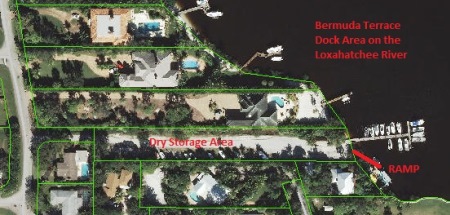 Dock Map